---
Check for news, ask questions and make propositions at our forum.
---
Max File Viewer
Utility for viewing max files and creation of a preview.
The transition between files is carried out either by double-clicking a file name or using an arrow on the side list.
Checkbox Adv. on the top indicates whether to add to the list files for that already have previews.
Be careful when you use the button "Delete" – this button removes the selected file will be deleted from the hard drive!
But before deleting warning appears on the disposal with the ability to cancel the operation.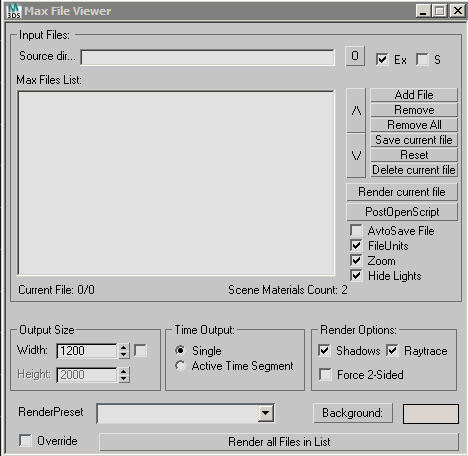 Extended Auto Backup
This script moves old files with a versioning into to backup folder every time you hit save,
that means that you never overwrite on top of another file, and you never lose anything.
AutoSave
The copy of the open file is saved with specified time interval in the folder "AutoBack".
ConvertToBaseObject
Converts all selected objects in the Edit Poly or Editable Spline
depending on the class of a selected object.
Instanced links will be saved.
Easy to use in the quad menu.
FixUtilities
Set of tools to find and fix problems with objects and materials in scenes.
* Adds an ability to select materials with reflection, refraction, displace and interpolation.
"Missing UWV" function based on a script from Alex Cooper.

MultimatName –
Script to rename sub-materials or names of MultiMaterial in the active slot of Material Editor.
Name fields are filled in the names of the same name sub-materials,
provided that there is no syllable in the name of «mate» and the name of non-empty.
With ctrl-key handled all multi-materials in the scene.
With shift-key sub-material name is taken from the field name.
By default, processing is performed only for one multimaterial to ensure
that it was easier to control the process of renaming.
Instance Materials and Maps by Name and Class
v.1.2 – Added an ability to place similar materials into Slate Material Editor.
Place instanced materials into Material Editor by pressing the button "Place to Mat Editor".
Choose the desired material and press the button "Make Instance" for converting all other similar materials to instances.
Management Materials and Objects ID.
Automate creation of Render Elements.
Assigning a wirecolor for objects.
Automate creation of MultiMatteElement for V-Ray renderer.
Automate creation of MatteRenderElement for Mental Ray renderer.
Automate creation of CMasking_Mask for Corona Renderer.[

*new

]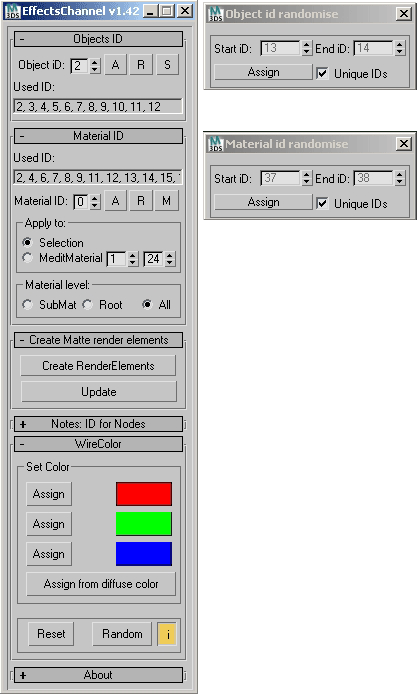 See tutorial "A Short Look at a 3DsMax to Fusion Post Workflow" from Kevin Shane on Cgtuts+.
Render RenderElements
Script for rendering colored masks in reflections.
Color nonreflective material is given at random.
The threshold of reflection color defined by user.
Before rendering Materials with a chosen color will be converted to absolute mirror.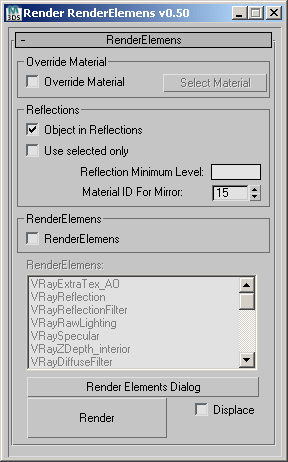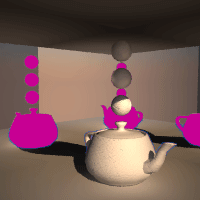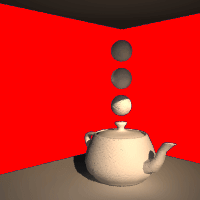 PhysicalCamLister (VrayCamLister)
Its a simple script for VRay & PhysicalCameras management in your scene.


Export Mesh to VRay Proxy with material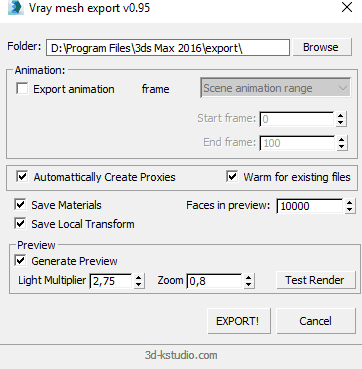 Show Map in Viewport
Allows your to include the display of textures in viewport appointed to a diffuse color of material.
When you press shift the display is switched off.

Assign Material to selection"
Allows you to assign a material from the active slot for selected objects, even if you close the Material Editor.
Get Material From Selected"
Places materials from selected objects to the Material Editor.
Select by Material
Selects unhidden and not frozen objects with the material or with texture from active Medit slot, if necessary, opening groups.
Use ctrl-key for adding objects to selection.
Use shift-key for select visible, hidden and frozen objects with material from active Medit slot.
Copy Material and Modifiers
Apply to selected objects a material from picking in viewport object.
Use shift key to copy modifiers.
Select by Material
Script fo select objects with Material or texture from Active Material Editor Slot
By default will be select only for visible objects
You can use Shift key for select Hidden and Frozen objects
With Control key uoy can add new selection to current selection
Isolate Selection
Written for replacement the standart which doesn't correct work with frozen objects and xRefs.
Save Restore Selection
Allows you to save a set of selected objects.
Set is restored in the absence of singled out or when you hold the keys SHIFT
Use CTRL-key to adds to the previously saved set of selected objects.
Use ALT key to deducted from a previously saved set of selected objects.
Cycle Coordinate System
Allows you to quickly switch between a standard coordinate system mode «View» and «Local»
at work on the upper level of the facility or «Parent» when using sub-objects.
Convenient to assign to the shortcut.
1st gear translates the coordinate system to the «View»,
2-nd offers select an object on which will be oriented coordinate system.
Set Selection Filter
Very useful script.
Script for quick set the Selection Filter.
Allows you to create custom filters
for Classes (for example-Box), for Superclasses (for example-Geometry),
Modifiers, Materials, Vertex count or Instanced objects.
Convert Vrimg to Exr


This script allows you to convert Vrimg files to EXR .
It is possible to convert files into one EXR file with all channels or only selected channels to different EXR files.