Some tips about using the Project Manager context menu.
This article about the 2nd version of Project Manager.
The new, 3rd version, significantly expands the possibilities of working with Favorites.

Standart System Directory

Catalog – Virtual Directory which can contains the system directories and other catalogs

Favorites – Virtual Directory which can contains the links to files, system directories and other catalogs and favorites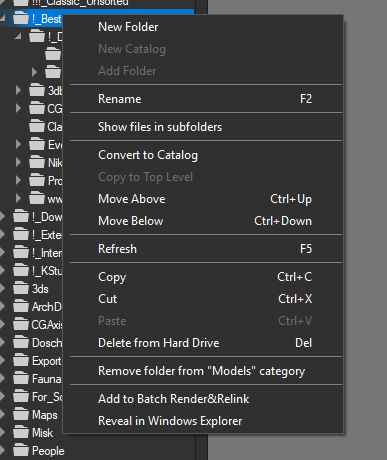 The "New Catalog" function helps to create a virtual folder that exists without being attached to the real location on the hard-drive.
It is possible to organize the folders by different thematic directories.
And of course, the virtual directories allow storing folders in multiple places without duplicating them on the hard drive.
The virtual directories help you organize all your assets together in one place regardless of where they are stored.
In other words, you can use virtual directories to organize similar folders or files that are located in different locations.
This can aid in productivity when you work with lots of assets that split into many locations.
Instead of clicking through a bunch of directories to find the desired files or directories, including them in a virtual Catalogs or Favorite makes for faster access.
In addition, the functionality of virtual folders can be compared with the tags and categories.

Adding and organization directories
You can add necessary folders to Project Manager using the menu-item "Add Folder" or by direct dragging folders from the Windows Explorer window.
To remove a folder you have to use the «Remove Folder» function. Note that using the option «Remove from Category» the folder won't be deleted from the hard drive or network storage.
Folder will be removed only from the tree of Project Manager.
To delete the physical folders you have to use the option «Delete from Hard Drive».
«Move to Top level», «Move above», and «Move below» are the functions that are used to change the location of a folder in tree. Besides additional functions, there is an option "Add to Batch Render&Relink".
Using it you can send a folder or a directory straight to the task of "Batch Render&Relink" utility.
The menu-item «Reveal in Windows Explorer» opens the physical location of the folder in the Windows Explorer window.

All in all we figured out that working with catalogs is really easy process and absolutely everyone can cope with it.
Related to "Working with Directories and Virtual Catalogs. Organization of folders"