Installation:
Download archive with plugin.
Unpack the archive on a hard disk
Run the 3ds Max.
Drag the .mzp file into the viewport
The installation will be automatically started.
Follow the instructions on screen for complete the installation.
Generate the identification file, if you are the official client and you need a new license.
In the 3ds max menu "Customize">> "Customize User Interface">> Category "Kstudio" (or "Track" for older versions ) choose the plugin and drag it to the Panel of the Instruments.
Receiving the License Key.
To generate a license file I need to get a identification file for your computer.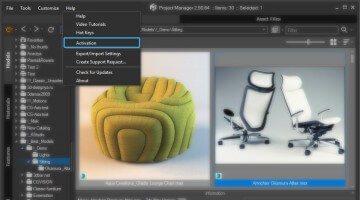 Generating the identification file
After Payment send the identification file using the dashboard (in this case you receive a license during half hour)
Also you can send it to e-mail: sales@3d-kstudio.com (it requires a more time for answering – up to 48 hours)
Run the 3ds Max.
Choose the menu-item "Activation" from 3ds Max menu "Project Manager" or from the plugin menu "Help".
Press the button "Apply Key File".
Choose the license key.
It is all!
Have a nice day!
Also please see help file:
Note:Please use latest updates for your version of 3ds max
3ds Max Updates & Service Packs

Demo version allows to work only with limited number of files.