Join the forum discussion on this post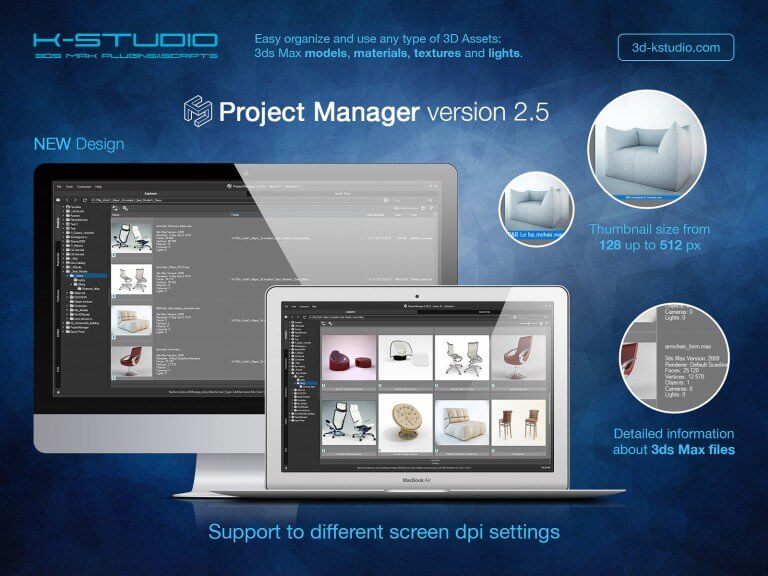 I am pleased to present a new version of Project Manager to you.
Everybody wishes to work with a tool that is both robust and, of course, beautiful.
Artists pay special attention to visual appearance of the tool.
I have always paid much attention to the plugin functionality; however, while reading reviews of Project Manager, I frequently met criticism of its visual appearance along with rave reviews of its features.
Interface improvements
The new version will cater to the taste of 3D artists who set the highest demands to visual appearance of the tool.

The new version also supports ultra-high (4K or higher) resolution displays.
The maximum preview size was doubled to 512x512px.
Information panel and Details&Thumbnails view now show the detailed file information: 3ds Max version, renderer, number of vertices, faces, objects, cameras & lights.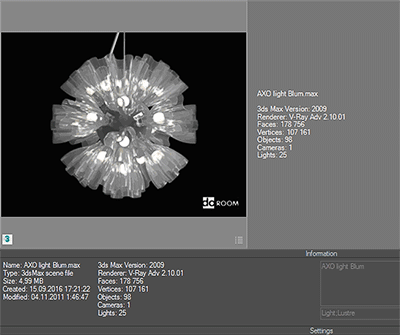 Other improvements
In addition to visual appearance and convenience, much attention was paid to fixing of bugs.
In particular, the problem with 3ds Max hanging during interactive rendering of materials was resolved.
This problem was primarily due to missing textures; now, a material will be rendered only if it contains no missing textures.
Now you can relink paths by using Batch Render&Relink utility that ships with Project Manager; in the coming versions, you will be able to fix paths to materials directly from Project Manager.
Network paths are handled faster, especially on Windows that processes IP-based paths slowly.
Upgrade to Version 2.5 is free!
---
Redesign the interface.
Increase the size of thumbnails up to 512px
Adds support to different screen dpi settings.
Displays more information about files.
Keeps original names for objects after merging.
Adds new function to API "PMpostrFileMerge"

*

.
Fixes an issue with auto detecting the Corona as default renderer for materials and scenes.
Fixes a bug when 3ds Max freezes when interactive rendering materials.
Fixes a lot of bugs and issues with interface.
*
Description of API function PMpostrFileMerge
/*
PMpostrFileMerge &PostrMergeStruct File:mergedFile Nodes:MergedObjects ParentNode:ParentNode
PostrMergeStruct:
struct of some additional parameters.
Now has one parameter: UsePlaceDialog.
Set UsePlaceDialog to false for disable open default Place Dialog after merging
File:
Full path to merged file
MergedObjects:
Array of merged nodes
ParentNode:
In case if nodes is groupped it's return a group head. In case if nodes count equals one it's return node.

Example:
Set desired name for merged nodes
Note: place this script to scripts startup directory
*/
fn PMpostrFileMerge &PostrMergeStruct File: Nodes: ParentNode: =
(
if isValidNode ParentNode and not isDeleted ParentNode do
ParentNode.Name = uniqueName (getFilenameFile File)
)
---